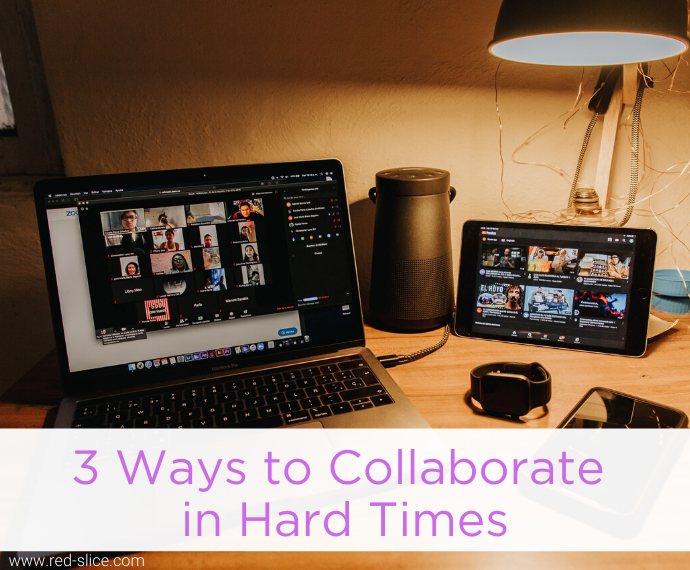 Whoa, these are some crazy times.
With the global spread of Coronavirus and most business (and personal lives) at a standstill, what's an entrepreneur to do to keep her business going to weather to storm?
This blog post was originally going to be about when to collaborate from an "outsourcing" point of view. Collaborating to ensure you don't try to do all the things yourself, but value your time and talent in a more strategic way. When does it make sense to pay a designer, virtual assistant, or CRM consultant versus spending all that valuable time trying to do it all yourself?
Of course, we need to value our time from a revenue perspective. What is your hourly labor cost for your time (not your mark up) and would the time be better spent on revenue-generating activities versus formatting PowerPoint slides?
But the world has changed.
As of this post, we don't know when quarantines will end. We don't know which businesses will survive the economic paralysis we're experiencing right now. And we don't know if our business will live or die.
But collaboration is still the key to success. Even in current times.
If business has dried up for you, if you're worried about projects evaporating or revenue looking bleak, it's time to reach out and collaborate. While collaboration is good for you right now, it's also a wonderful way to support other business owners in similar circumstances.
Let me say this first: Right now, you must pivot. No getting around it. So if you're used to certain revenue streams or always going it alone, you need to rethink things. My corporate projects rely on companies spending money and doing a live brand workshop. Ain't happening right now! That's not what my ideal clients are worried about right now Now is the time to address where you customers are mentally and financially, get creative, and pivot how you can help them. That includes your messaging, but also HOW you deliver your offerings – and which offerings you have.
Here are 3 ways to collaborate so your business thrives:
Create a new offer with a partner: If your current offerings are at a standstill, now is the time to create a new course or offering that immediately addresses what your customers need and want. Inject more "oomph" into that offering by collaborating with a complementary partner to not only make the deal even more irresistible, but tap into the collective marketing power of both of your audiences.
Continue to value your time by hiring others: It's not time to try to handle your website, design needs, etc. all on your own. While tempting, that is just more time that takes you from revenue-generating activity. If you're able to, it's still a good idea to hire contractors to help you with all the little things so you can focus extra hard on opportunity creation and demand generation. And you can help keep those businesses afloat, too. If you need to cut budget, do it in fluffy areas of the business, like cutting any extra subscriptions you don't need.
Keep your network active: How you show up right now says a lot about your brand and your business. Now is not the time to go into hiding! Continue to create valuable content and network on social media. While you may not be able to meet in person, schedule those coffee dates virtually. Check in with clients and prospects. Remind people you are still there and ready to serve.
Collaboration will not only help you survive, it will help you thrive.
(TWEET THIS!)
Here's a free resource for you to better collaborate and network virtually right now: It's a lesson from my MOMENTUM coaching program, the Playbook titled Socially Connect and Thrive. Enjoy, with my compliments!
And if you like it and want more Playbooks to master your marketing, articulate your value or build your audience, you might want to check out MOMENTUM Pro at a special $100 off.