… A marketing and branding consultancy that's been delighting clients since 2008, helping them craft a compelling, engaging and differentiated brand strategy, story, and messaging – all rooted in empathy.
… A playground for people who want to create an irresistible brand—the type of brand that generates fan mail, media attention, and loyal customers-for-life.
… A place for entrepreneurs and business leaders who want to clarify the big pieces — what we do, why we do it, what makes us different, where we're going, and how to get there.
ABOUT MARIA ROSS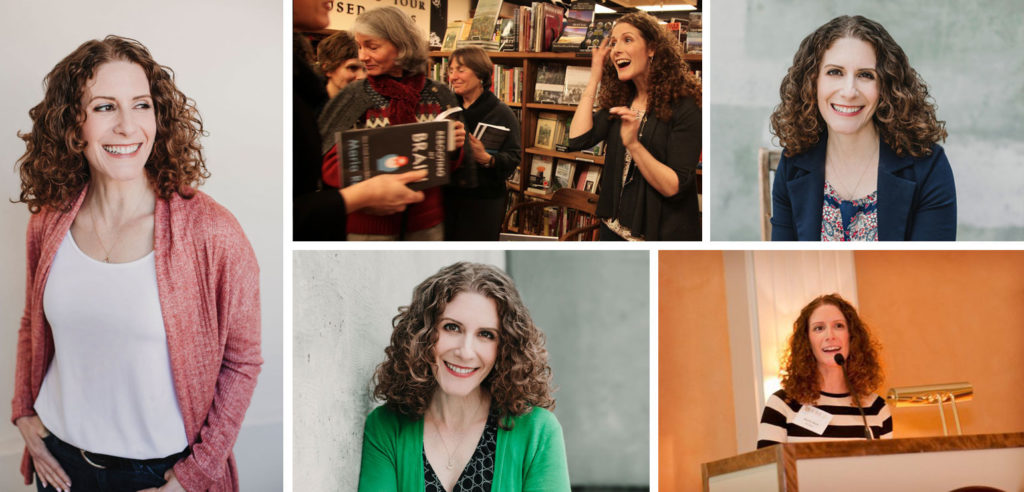 Hello! I'm Maria Ross, the founder of RED SLICE.
As a brand strategist, author, speaker, podcast host, and actress (when I have time!) I believe cash flow, creativity, and compassion are not mutually exclusive. And, as you you can see, I also believe in the Oxford comma.
My infatuation with the power of storytelling started young. From dominating my kindergarten classroom to delighting theatre patrons to directing brand strategies, I've been entertaining and educating audiences from the moment I could walk.
These days, I ferret out the features that make your company completely irresistible—so you can delight your customers, accelerate sales and impact, and stand out from the crowd.
I offer a variety of services for solopreneurs, startups, and emerging enterprises.
B2C. B2B. Client side. Agency side. I've done it all. After decades working in communication, branding and marketing for the likes of Accenture, Discovery Networks, Monster.com and then as a Silicon Valley tech marketing executive for both start-ups and global software companies, most notably Business Objects (now SAP)and Savvion (now Progress Software), I parlayed this all these experiences into RED SLICE in 2008. I am passionate about advising entrepreneurs and fast-growth businesses on irresistible brand stories and messaging that connects with customers.
I've authored multiple books, including my most recent, The Empathy Edge (named by Forbes as a Top 11 book redefining leadership) and I'm host of The Empathy Edge podcast.
See, empathy is at the root of all successful brands, movements, and stories. It's a key competitive advantage. And I understand the power of empathy on both the brand and personal levels: In 2008, shortly after launching my business, I suffered a ruptured brain aneurysm that almost killed me and inspired my best-selling memoir, Rebooting My Brain. It tells the story of my brain aneurysm and near-miraculous recovery—with tongue-in-cheek humor and levity (yes, really).
As a brand and empathy expert, my insights have been featured in many media outlets such as MSNBC, NPR, Entrepreneur, and Forbes.com – and a slew of podcasts and video shows. As a keynote and workshop speaker, I've delighted live and virtual audiences ranging from TEDx to Women in Tech Regatta to BlogHer to The New York Times to Salesforce – and livened up many conferences and company events. My writing has appeared in media such as Entrepreneur.com, Newsweek, MarketingProfs, Life By Me, and The Huffington Post. I'm based in the San Francisco area with my husband, young son and the memory of my first Chief Morale officer, Eddie the Wonder Dog, but I work with clients all over the world. (Email, phone, and Zoom make everything possible).
I'm all about…
STORYTELLING
Branding is all about storytelling. From the logo, to your website's About page, to the 140-character sermon you tweeted earlier this morning, every piece of your brand tells a story. I teach my clients how to tell unforgettable stories—stories that make customers nod, think, laugh, and feel genuinely moved and inspired to take action.
INTEGRITY
I believe that businesses can do good in the world, treat their employees and customers right, and still make plenty of money. I'm on a mission to use my marketing superpowers for good rather than evil!
INFLUENCE
"How do you want to influence the world?"… is one of my all-time favorite questions. Whether you're a firefighter, a Pilates instructor, or the CEO of a technology company, there's always a way to create a positive ripple effect in your community—and create a remarkable legacy. You are more powerful and influential than you might realize.
MY STYLE
Tough love and straightforward yet nurturing and warm. Collaborative. Decisive. Biased toward action. Practical yet playful. Witty. Wise, Efficient. If you want to spend months (or years) hemming and hawing about a direction, rather than creating a strong strategy and pressing GO, then I'm not your gal.
Click here to learn more about what I believe and how I work, so you can see if we're a good fit.
OUTSIDE THE OFFICE
When I'm not working, I'm all about… writing, acting, traveling, red wine, beautiful food, Crossfit, hiking, trivia (Jeopardy! Addict), crime dramas, and most of all, quality hug-time with my husband and adorable son. Among other philanthropic efforts, I'm a brain injury awareness advocate an advisory board member for Schurig Center for Brain Injury Recovery…and I let my dog-fanatic freak-flag fly by supporting the Seattle Animal Shelter Foundation, Best Friends Animal Sanctuary, ASPCA, as well as local Bay Area rescues.
NEXT UP, YOU CAN…
Sign up for my email newsletter and get insights and inspiration delivered straight to your inbox.
Grab one of my books on how to stand out, get noticed, face challenges, and stay inspired.
Book a 90-minute Brand Booster session and get a quick taste of what it's like to work with me. (Or check out my full menu of services and programs.)
Hire me as a keynote speaker or workshop leader to inspire and ignite your company meeting, conference or customer event.
Listen to my empathy podcast, The Empathy Edge and enjoy insights from visionary C-level leaders, best-selling authors, psychologists, and thought leaders about how to leverage empathy as a competitive advantage.
Prefer to simply contact me and discuss your goals? Please do!