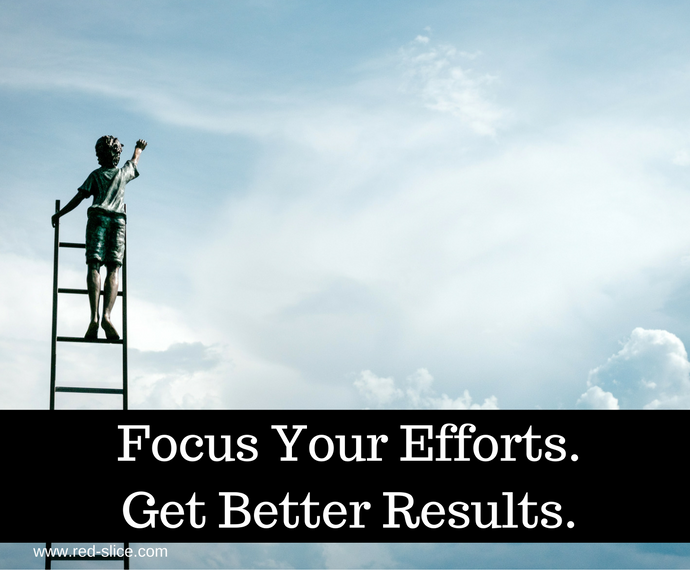 Be careful about giving advice. It can come back to haunt you.
My almost 4-year-old burned me pretty badly the other day.
The modern world does not do us any favors when it comes to presence and focus. I work very intentionally with my son to help him avoid overwhelm and concentrate on one task at a time. When he starts flipping through another book while I'm reading one to him, I gently take it from his hands. When he jumps from one game to another, I stop him and we make a game out of putting the first one away. When I'm speaking to him, I encourage him to look me in the eye and put down whatever he's working on to ensure he's listening.
"We have to focus on one thing at a time," is my mantra for him.
The other day, we missed the freeway exit for his swim class. When he asked why we were going on little detour, I said, "Mommy missed our exit, honey. I wasn't focusing, was I?" He nodded.
A few days later, I was driving him to preschool,  my mind abuzz with the day's to-do list. Sure enough, we drove straight through the light instead of turning right and had to double-back.
"Why are we turning around?" he asked.
"Because I got distracted and didn't turn when I was supposed to."
He gave me a stern look, "You weren't focusing, Mommy."
Out of the mouths of babes.
Multitasking is a myth. Science proves that we don't really do tasks simultaneously: We're just switching focus.  And it takes longer to complete tasks that way because of stopping and starting. Efficiency goes out the window.
And yet, God love us, we still try.
When it comes to promoting your work, you may be tempted to try a million different tactics to see what sticks. After all, there's a lot out there, right? We live in an age of marketing overwhelm.
You're right to test and tweak. But not all at the same time! The truth is that you'll just do a lot of things really badly – and not see results.
Quality over quantity wins. Every. Single. Time.
It's better to focus on doing a few things really well, mastering them, if you want to see results for your revenue, visibility and impact. 
Focus on mastering a FEW things really well, not trying to do it all, if you want revenue, clients + visibility!
Click To Tweet
To help you tackle your focus challenges and breathe easier while getting more results, please download a FREE taste from my upcoming MOMENTUM Pro self-study program by clicking the button below. This Playbook is titled Simplify Your Marketing Plan and it's all about how to streamline and focus for results. I promise: You don't have to do it all!
If you like this playbook and want a more streamlined, non-overwhelming, completely do-able way to master your marketing, check out MOMENTUM Pro! It's all about focus, providing a step-by-step system to take one action at a time and gain clients, visibility and revenue.
Photo by Samuel Zeller on Unsplash