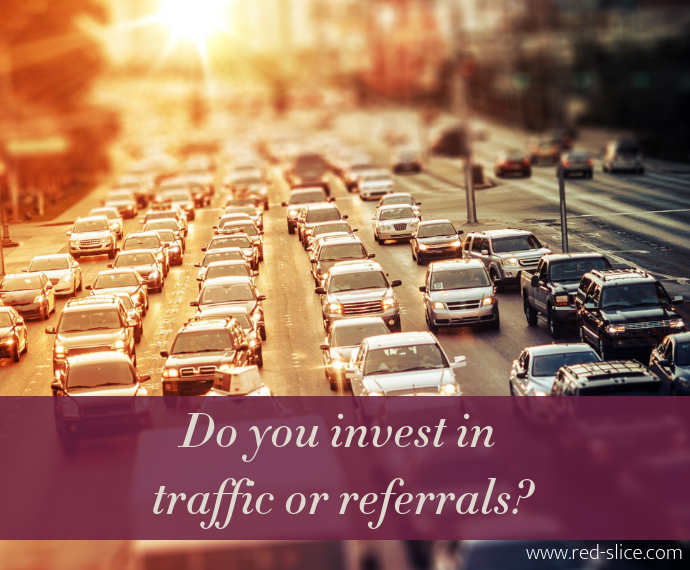 When it comes to the primary method for attracting new clients or customers, small businesses and entrepreneurs fall into two camps:

They rely on website traffic.
They rely on referrals.
Neither strategy is right or wrong. You just need to be clear on what is your strategy so you can invest your time and money into the right activities.

Online shops, of course, rely on website traffic. They need as many of the right people knowing about and coming to their site as possible to make their sales. But this strategy also benefits coaches or consultants with online courses or speakers and authors needing to build a platform. These are the folks you also see investing heavily in social media ads. (Sidenote: while I was never someone who bought from online or social media ads, I have to admit that Instagram ads finally got me. I regularly buy from brands I've never heard of before after seeing just one compelling video ad!)

Certain consultants and B2B marketers, however, rely more upon referrals. I'm one of those people. People may not buy such high-touch, high-priced offerings from their site, so they double-down on referral efforts. This includes actively reaching out to their networks or existing fan base, consistently asking for client testimonials and spending their time providing compelling content for those audiences to constantly stay top of mine.

You must understand your primary sales lead channel in order to invest in the right marketing.
(TWEET THIS!)
Some resources for you:

If you're focused on driving online traffic, I highly recommend you check out Devani Freeman for Facebook and Instagram presence-building and campaigns. Amy Landino for video marketing strategy to build a YouTube presence and drive traffic, or Diamond and Branch Digital Marketing for all things SEO, digital content strategy and more traffic driving.

Articles you may love:
How to make Facebook and Instagram ads work for your business
5un-ignorable reasons why your business needs a blog
How to do SEO in 5 minutes (really)

The 5 best ways to drive traffic to your website If you're focused on referrals, I highly recommend you check out relationship and networking and connection expert Michelle Tillis Lederman (she has a new book coming out soon called THE CONNECTOR'S ADVANTAGE – so good!) and LinkedIn guru Sandy Jones-Kaminski of Bella Domain. I also highly recommend Leah Neaderthal's course SIGNED to help you create a lead generation process and really work your referral base (If you're interested in an intro to Leah AND a special discount code for this course, contact me!)

Articles you may love:
6 ways to spread the word about your business
Top 5 networking tips from a pro
How to attract quality clients and customers
25 ways to ask for a referral without looking desperate