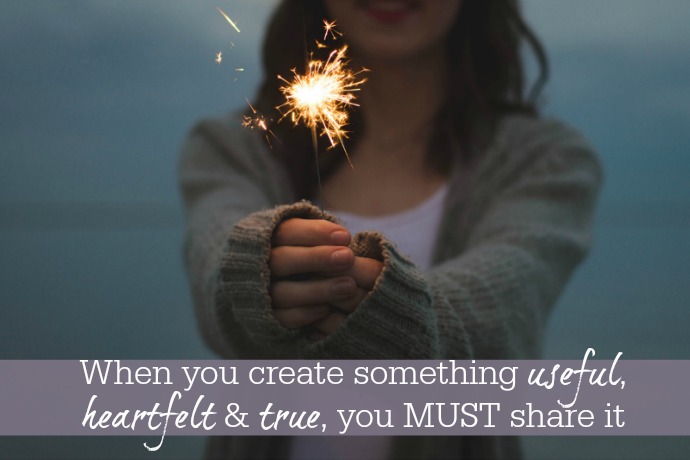 Your content is so sexy.
It's polished. Dazzling. Useful. Funny. You cracked yourself up writing that last post. You made your videographer cry when you shared that poignant story on camera.
So why is it just sitting there?
There is nothing more frustrating than creating something wonderful, pouring your heart and soul into it, putting it out into the world and hearing….crickets. I know. I've been there, believe me. Years ago, I had a fabulous little blog going for many years that delighted me – and no one else for a long time. And don't get me started on the time I finally, finally, published a very personal and heartfelt essay that had been tucked away for years only to get zero response.
When you create something useful, heartfelt + true, you must do whatever it takes to share it with the world (Tweet This!)
Put down the vase you're about to throw in anger and wipe away your tears, Buttercup. Here are 6 sensational tips to make your content more shareable.
Create Good Content: Thank you, Captain Obvious. But seriously. This is not the only reason content gets shared (the Internet is littered with great content that went no where) but it's a start. We don't care about your cat, or your kid or your fabulous multi-million dollar business unless we get something out of it – even it's a good laugh. What's in it for your audience? It's great to share personal stories and reveal a bit of behind the scenes about your work and life. But always have "Why should I care?" in mind as you create.
Create Good Content, Part Deux: Make sure it looks good. That does not mean it has to cost thousands of dollars to create. It means pay attention to aesthetics and details. Spell check, make sure the photo is clear, ensure the camera is steady and that we can hear you. Whatever your medium of choice, do it well.
Make Sharing Easy-Peasy: The easier your content is to share, the more people will share it. If you make people take multiple steps in order to share your content, they won't do it. Like you, they are too busy, no matter how much they want to help spread the word. Shorten URL's or create customer ones with sites like bit.ly. Use Click to Tweet (my personal fave) to pre-write Tweets that they can share with…well, a click. Ensure your blogs or content have Share buttons so people can share on their social media platform of choice. And make sure they work. I can't tell you how many times I've tried to share a cool post by clicking one of those icons, only to find it broken or that it auto-creates a post/link that is too long for the platform anyway so it never gets shared.
Use Stream-Stopping Images: This has been a game changer for me, thanks to the wise counsel of Sarah Von Bargen. You're scrolling along in your feed when you absolutely have to stop and share based on a cool image that stands out. Photos on Facebook generate 53% more likes. Tweets with images get 89% more favorites and 150% more retweets. Make sure you choose an eye-catching image for all your content and size it correctly, as it differs for each platform. Check out this handy guide for social media image sizes. Personally, my VA and I use PicMonkey to resize my images and add a cool caption (like the ones you see on my blog). Where do we find them? Places like Unsplash and Yay Images for starters, but there are lots of royalty-free sites you can use.
Invite People to Share: Marie Forleo is a hugely successful online marketer and coach. She has a massive email list. Her weekly videos get hundreds, if not thousands, of comments each week. She gets a bajillion people signed up for her B-School every year. And yet…at the end of every video, she STILL invites people to like and share her content. You're never too big to ask folks to do what you want.
Craft Clever Titles and Posts: If you've been here a while, you know I try to shake up both my blog post titles and the social media posts promoting that content. Lists work really well (ahem….like 6 ways to…) but so do intriguing titles that invite curiosity. If you follow me on Twitter, (please do!) you can see that I play around with wording to promote the same post. You can use the actual title of your content once or twice, but how about a sexy, cool, funny or intriguing statement instead? This of it like an ad headline. Now, I'm not talking about disgusting Link Bait that dupes you into thinking you're getting something you are not  – and I despise Link Bait for actual journalism. But for content, you can play around with intriguing variations that draw people in, such as (totally making this up, as it depends on the content itself):
I like Tip #4…what do you think? (LINK)
If you just followed 3 of these tips, you may hit 6 figures this year (LINK)
This baby has the best grandma in the world (LINK)
Why dogs make great yogis
This is as good as chocolate dipped in chocolate, smothered in chocolate with a side of mmmmm…(LINK)
Which of these tips will you put into place right now to make your work more shareable? Do you have any other tips to add? Please share in the Comments below!